Sunday April 3rd à 6 pm by Zoom with Méhar & Manjeet Kaur

YOU DECIDE - a contemplative workshop on individuality and inner guidance
"Failiure is nothing but the opportunity to succeed."  Yogi of Sound

Free. REGISTER.  Organised by the Raj Academy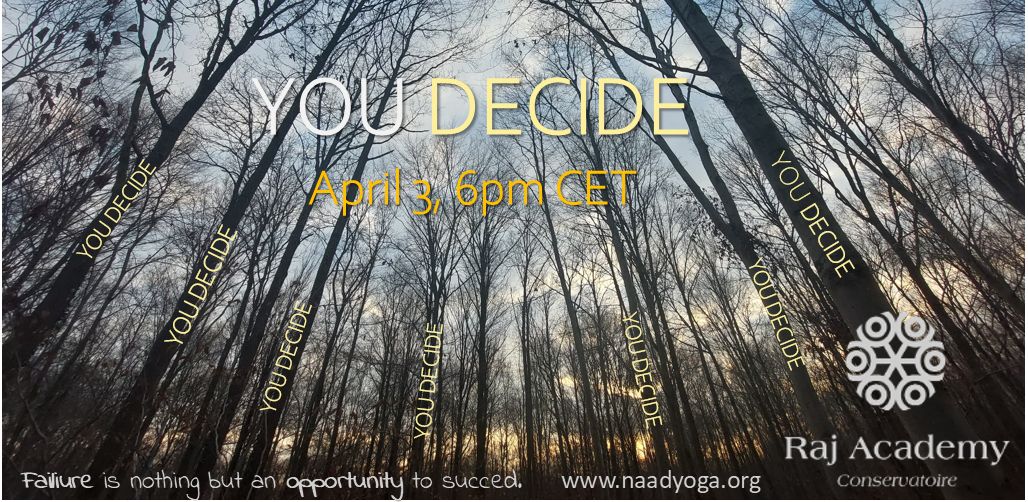 Experience how deciding in alignment with your inner nature enables ease of action and interaction.
Empowerment is in the hands of those capable of knowing how to mind their ways. No prerequisites other than an open mind to trace the path of yogic wisdom to the heart of you. Decision making, as a sound art of transforming possibilities into reality. From rationale and emotion into action. Come and explore your unique way of conversing with your life from yesterday and tomorrow into ONE present. https://rajacademy.com
 Join this workshop to explore how you connect to yourself and others.
When one decides, who decides really?
What is the role of interconnection and belonging? 
The meaning of failure?
How to leave the guilt/blame game and embrasse neutrality?
We are all unique.... why can't we just be; what if it were possible to welcome all and anything with a genuine smile within ?
The session is primarily in English, and anyway the langage of emotion knows no limits.  Please have your Myers-Briggs profile ready before you join, so you can combine the tools of Ancient India with the modern ones.
Contact-us if you have any questions or need translation. See you soon! This email address is being protected from spambots. You need JavaScript enabled to view it.
ARCHIVE 2018
NAAD YOGA ADVENT SERIES with Anna MEHAR
Find creative ways to communicate with yourself and others, using sound, words and emotions for a truthful expression at every moment.  Presents? Presence. Presence is in you- while the morning star that guides us all through, sings the song of laughter joy or sorrow day and night, throughout. 
Saturdays in December, 12:15 pm -1:15 pm in the Chapel at the Center for Performing Arts, 3754 Pleasant Ave #, Minneapolis, MN 55409.
Courage to face your reality (12/1),  Freedom to trust  (12/8), Love never ends (12/15) , Healthy Sleep (12/22)
In the longest nights of winter finding jewels in your mind,
Tinkling softly as your inner talk unfolds inside.
As guiding stars, among your words of wisdom, pain and courage,
Words of freedom, trust and love,
From the temple of your heart to the kingdom of your mind,
Spread their wings and sing,
as ancient yogic teachings take shape and meaning in your life.
What you live is what you learn. Through the yogic art of music, let soul and mind agree.
Love has no end. Join hands and voice -  sail free.
Mehar Kaur